My collection of Simon Says Stamp inks keeps growing! Since I have so many ink pads, I've been forced to relocate them to an Ikea Alex drawer unit that lives next to my craft desk. The ink pads are now stored on their side (yes, it's okay to store them this way). I have them in one of the shallow top drawers, so it's a bit snug when I close the drawer. I'm considering moving them to a deeper drawer in the same unit for a bit more vertical room, but then again… I like these in the top drawer. Easier to get to. :)
Because the pads are on their sides in their new home, I wasn't able to see the ink color names. So I created some ink pad "labels" that show the name and an actual swatch of the color.
Isn't that drawer of inks so pretty? Just yummy!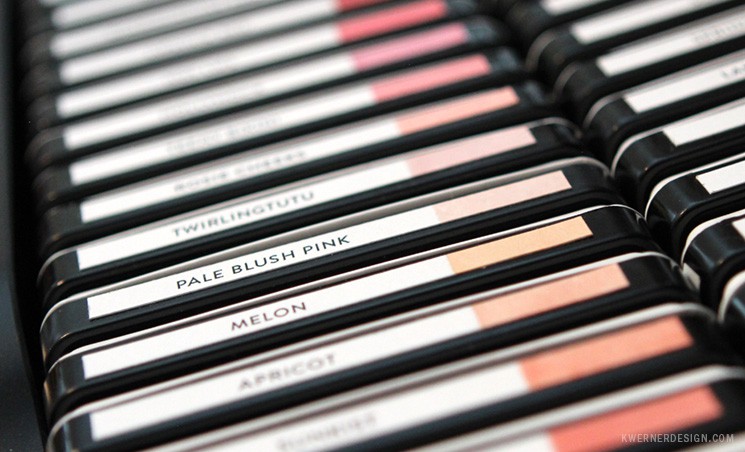 I printed the ink pad labels on Neenah Solar White 80 lb. cardstock. I chose to do this (as opposed to printing on actual label paper) because I wanted the ink swatches to look the most accurate compared to when I use the inks on projects.
The solid swatches were stamped using the Swatches stamp set from Simon Says Stamp. TIP: Be sure to thoroughly clean your stamp between colors. I recommend using Hero Arts Ultra Clean stamp cleaner and a Scrubber Pad.
To stick them to the ink pads, I ran the labels through a Xyron Create-A-Sticker machine. Super easy!
You could also print out the PDF on full sheet label paper. Then you wouldn't have to apply any adhesive. Of course, you might sacrifice color accuracy (it won't match the cardstock you use on stamping projects), but it sure is convenient.
Free Download
You can download my ink pad labels below. I have a few options:
NOTE: The font used on the ink pad labels has been updated since I first created my ink pad labels. The files above have the new font.
To see how I create my ink pad labels from start to finish, please watch the video below. And if you have questions, please contact me or leave a comment.
Watch video below | Watch at YouTube
Supplies
I often get questions about where to purchase the supplies I use in videos. To make it easier for my blog friends, all supplies are listed below! :) The letters below each image are links to stores where you can buy the product. SSS = Simon Says Stamp, AZ = Amazon, etc. Affiliate links used when possible.
Items marked with an asterisk (*) were provided by the manufacturer. All other items were personally purchased.
CLICK A SHOP:

CLICK A SHOP:

CLICK A SHOP:

CLICK A SHOP:

CLICK A SHOP:

CLICK A SHOP:

CLICK A SHOP:

CLICK A SHOP: