Are you guys ready for this? This video and post has been in the works for a LONG time. I tore apart my craft room last February (nearly a year ago!), built it back up with the help of an interior designer and contractor, and have been settling in ever since. It was a massive undertaking considering I spend 60-80 hours per week in my craft room. Besides crafting, it's also where I design and illustrate, and do all the "office-y" things related to running a small business.
First, let's take a walk down memory lane. Here is what my craft room looked like before I started the remodel. The room previously was an ordinary guest bedroom in my house. By ripping everything out (including the closet for more usable space), it truly became a functional crafting, design, and art space.
In this post, I have a lengthy video walk through for you, plus lots of photos. You'll get a sense of the space in the video and then I broke the video down and included screen shots of the video with links to items shown. I apologize for how long this blog post is! I just tried to anticipate the things you might ask about. It's probably overkill, but hopefully I've covered everything. If you don't find an answer for your questions, please contact me.
Things to note:
This video and post show the finished craft room and how I'm using it. For more details on the actual remodel process, I shared a bit on Instagram.
I took a LOT of inspiration from Jennifer McGuire's craft room. You'll see a lot of the same elements in my room that you'll see in hers. I also hired the same interior designer to help me determine the floor plan, electric, and various other aspects of the room. Thank you, Michele! Michele is located in Ohio so we worked over email and phone calls. It was a great process. :)
Also, today Jennifer and Kathy are sharing their craft rooms. Jennifer's is her previous craft room from before she moved to a new house a few months ago. Check out their craft rooms! We thought we could all share our craft rooms on the same day. :)
Jennifer's craft room – Jennifer likes to store things out of sight. I need to have most things out in the open or I forget they're there. :)
Kathy's craft room – Kathy likes a mix. Some things are tucked away and others are visible.
Okay, onto the video!
Craft Room Photos
(above) I wanted different "stations" in my craft room since I do many different things. This is the computer corner. I think I spend 70% of my time in the room right here.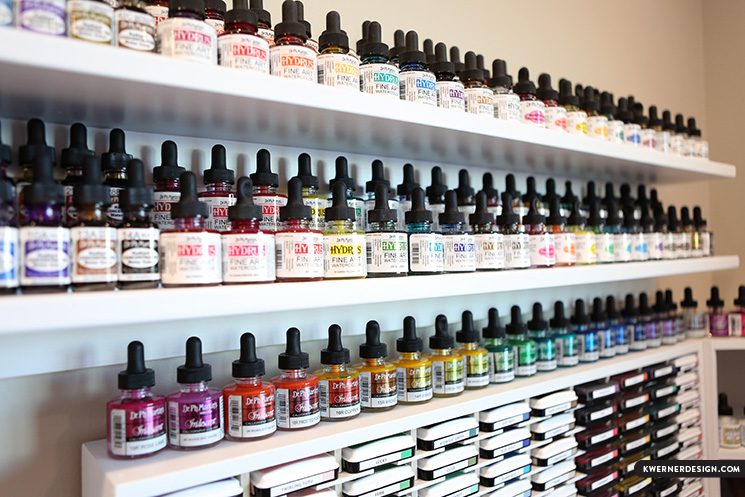 (above) My mom made me this unicorn. Isn't she cute! You can get the free crochet pattern here.
(above) All of my planners and albums live in the Ikea Kallax.
(above) The peninsula coming out from the Ikea Kallax unit is my main crafting area. It is taller than kitchen counter height. The extra height allows for a shelf underneath the main surface (where I store my paper trimmer, etc), and it also puts the surface at a more comfortable height for me (I'm nearly 5'10"). You can see in this picture the stool I use sometimes. It is a Mobis I seat from Focal Upright. I don't use it all the time. Other times I use a Steelcase Think Stool (which can be seen in the video when I show the corner with my inks and watercolor bottles). I use a regular Steelcase Think chair at my computer. I've had the stool for 8 years and the chair for 3 years. They are amazing and very supportive.
(above) An overhead shot of my crafting work area. My camcorder is mounted above the cutting mat (more details below).
Even More Details
And now onto even more details. This is the nitty gritty with lots of links. Compensated affiliate links used when possible.
Basics and Wall Decor
1. Cabinets – These are the exact type of cabinets that I ordered (in a white color, obviously). Satin nickel finish drawer pulls.
2. Wall Color – Benjamin Moore Revere Pewter
3. Flooring – Mannington Adura Luxury Flooring, Sundance Smoke
4. Window Blinds – Hunter Douglas Cellular Shades with blackout option. I also opted for the kind that can drop from the top in case I want light coming in only from the top.
5. Large K – This was a gift from a friend a few years ago. I believe she bought it on Etsy.
All artwork in this image was framed by Framebridge. All are Irvine Slim frames with the shadow mounting option. Framebridge was great to work with. I mailed them the prints and they framed them for me.
6. Jessica Hische Procrastinating Letterpress Print
7. Jessica Hische Daily Dropcap Letterpress Prints
8. Jessica Hische Alphabirds Letterpress Prints (the version I have isn't sold anymore, but there is an updated foil version)
9. Capri Solid Wood 14-Inch by 14-Inch Langford Frame, Black – For 7×7 prints. I had pictures of Mannie printed locally and placed them in the frames.
10. More Framebridge frames. However, for these I used their app and connected it to my Instagram account. These are their Instagram sized frames. Again, I ordered the Irvine Slim frames.
11. After seeing the laminate counter tops in Jennifer's craft room, I chose the same design. It is WilsonArt Astro Strandz.
Office & Computer Organization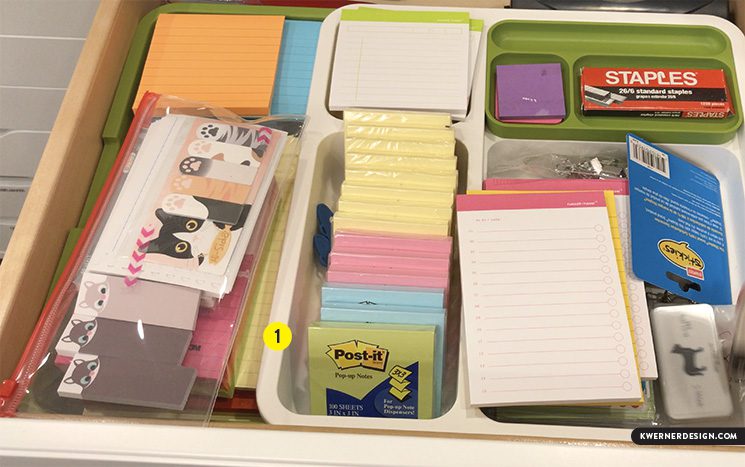 1. Expandable DrawerStore Organizer by Joseph Joseph
2. Pre-cut cardstock. I buy reams of Neenah Solar White and Neenah Desert Storm and have them cut at my local copy store.
3. Epson Artisan 820 ink jet printer/scanner/copier (newer version)
4. Primacoustic VoxGuard VU – Improves the sound quality of my voiceovers. I use a Blue Yeti microphone.
Under the Window
1. Two wide Alex drawer units from Ikea, built into the cabinets.
2. Craft Mates Lockables container (smaller size) – I wasn't able to find a link for these
3. Craft Mates Lockables container (2XL size)
Ink Pad and Liquid Watercolors Storage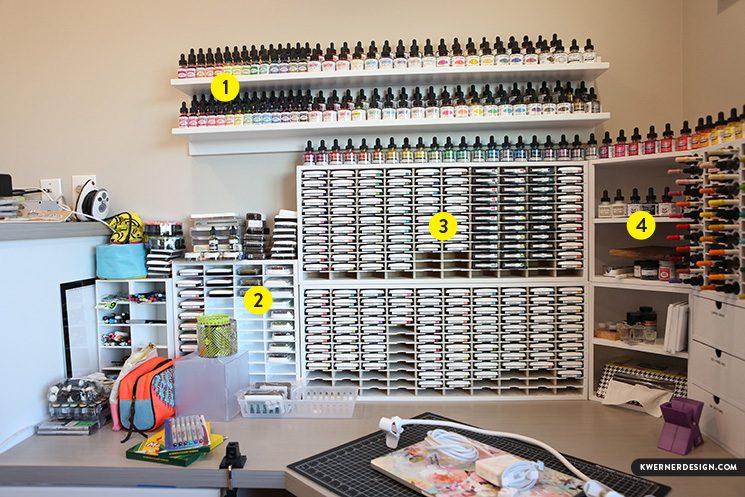 1. Custom shelves built by my contractor. Each shelf has a step on it so the back row is raised.
2. Organize More 48-ink Organizer
3. Stamp-N-Storage Slim Inkpad Holders, 120 slots – For more info on my inkpad labels, see this blog post (where you can download the customizable PDFs)
4. Stamp-N-Storage Corner Shelf Units
5. Stamp-N-Storage Distress Combo Holder, 48 slots
6. Stamp-N-Storage Distress Combo Holder, 12 slots
7. Stamp-N-Storage 6-drawer Storage
8. Stamp-N-Storage Slim Inkpad Holder, 36 slots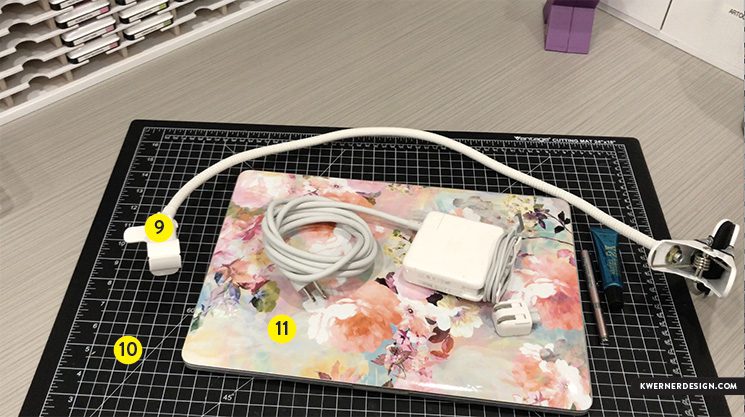 9. Flexible long arm clip for cell phone – I use this to hold my cell phone up for live streaming or quick videos.
10. Large cutting mat, 18×24
11. Apple MacBook Pro with Society6 laptop skin on it
12. Metal Drawer Organizers (I have two sets in this drawer)
13. Clear acrylic shallow drawer organizer (I found these at the Container Store but couldn't find the exact ones online).
14. Reisenthal Cuffed Fabric Bins
Built-In Stamp, Die, and Miscellaneous Storage
I don't have the exact info on these drawer pull-outs. My designer ordered them when she ordered the custom cabinets. However, here is info on the bins and storage in them…
1.  I bought these plastic folders and cut them down to create sturdy dividers. I then used my label maker to add category labels.
2. Storage pockets:
3. Divided Deep Fridge Binz Tray Clear – The exact ones I have are available at the Container Store here, however a similar kind from the same company are available at Amazon.
4. Tall Alex drawer unites from Ikea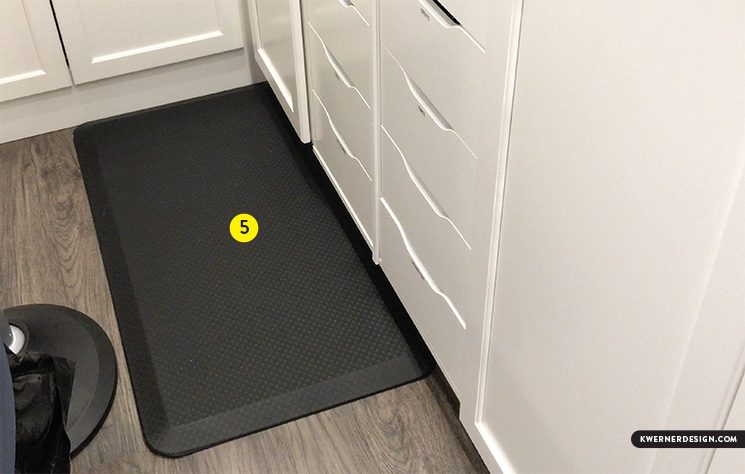 5. Anti-fatigue floor mat. When I'm standing at the peninsula and crafting, I'll move this over and stand on it. It really does help. I know many people have these in their kitchens, too.
Nail Polish Supplies and Storage
This cabinet hold most of my nail polish manicure supplies.
1. Zoya Remove+ (my favorite nail polish remover). I buy it in the large bottles and refill a smaller bottle.
2. Large Color Clutch boxes – I don't think these larger ones are being sold anymore. (I have a review of these at my nail blog)
3. Color Clutch boxes, also available at the Container Store
This is an Ikea Kallax shelf unit with the peninsula built into it. My contractor customized it by cutting the dividers on the second shelf down and having the top counter intersect. This created shorter cubbies on that row. There are two back-to-back Alex drawer units on the other end that create the "legs" of the peninsula.
1. Stamp-N-Storage 12×12 Paper Storage for Ikea
2. Stamp-N-Storage ink pad holder for Ikea
3. Ranger Mini Ink Storage Tins
4. Heavy duty plastic pockets for paper storage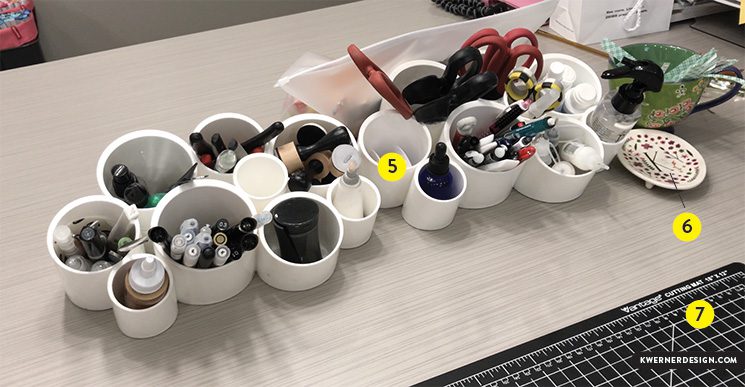 5. Boon Stash Organizers (I have two of them)
6. Spoon rest – I use this for placing my baby wipes down. It prevents me from putting them down onto a project or ruining something else.
7. Alex drawer units (there is another drawer unit on the other side. They are back to back)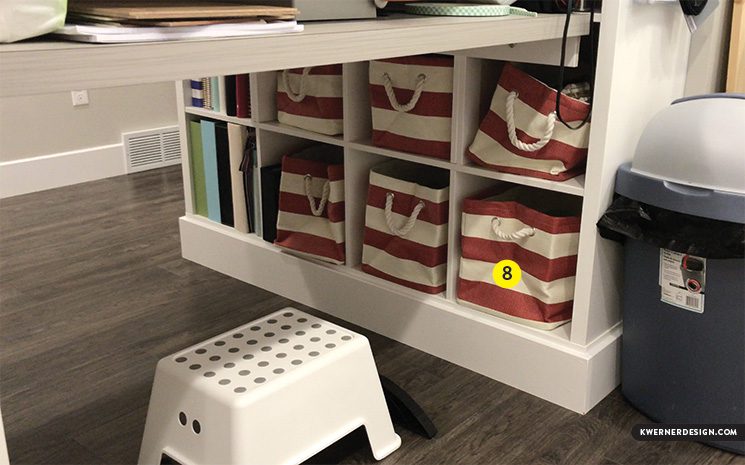 8. Striped fabric backets – I have both the medium and small sizes. The medium fit the full square cubbies and I use the small ones for the cubbies that have the support for the peninsula in front of them since it blocks a bit of access (you can see the support right underneath the counter). These store items that I don't need all the time.
9. USA Map that I designed years ago. Sadly, this isn't sold anywhere anymore.
10. Divided fridge binz container where I keep pre-cut cardstocks and papers.
11. Sistema storage containers for embossing powders. I only have my most used embossing powders in these.
12. Pre-cut paper towels (hand towels). Perfect for grabbing a sheet while painting.
13. Large Utility Command hooks for hanging rings of stencils and swatches.
Camcorder & Filming Setup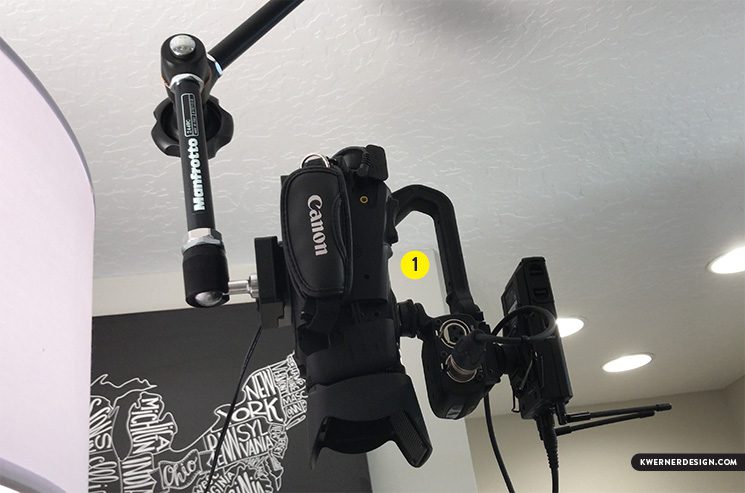 1. Currently I use a Canon XA20 for filming (here's the newer version). It has a Sony lav mic attached to it. I've used the same camcorder for over 3 years now.
2. Mounted into the ceiling is a strong wall plate…
3. then there is an adapter so the wall plate can connect to the…
4. Manfrotto Arm. The arm comes with a balhead mount and plate that attaches to the camcorder.
And that's it!
Whew! And that is everything! This video and blog post took a LONG time to pull together so I hope it answers a lot of questions. Like I mention above, please contact me if you have further questions. And thanks for stopping by!