Creative Shaker Card with New Lawn Fawn stamps & Copic Coloring
Happy Friday!
Have you all seen the new Lawn Fawn release? So cute! I can't wait to use those Mermaids!! But before I play with those, I thought I'd create a birthday card using the So Smooth stamp set and some Copic Markers.
I was trying to come up with a creative way to use the blender image and then it dawned on: shaker card! I thought it would be so fun to turn the blender into a shaker! And why stop there? Make the glass into a shaker, too!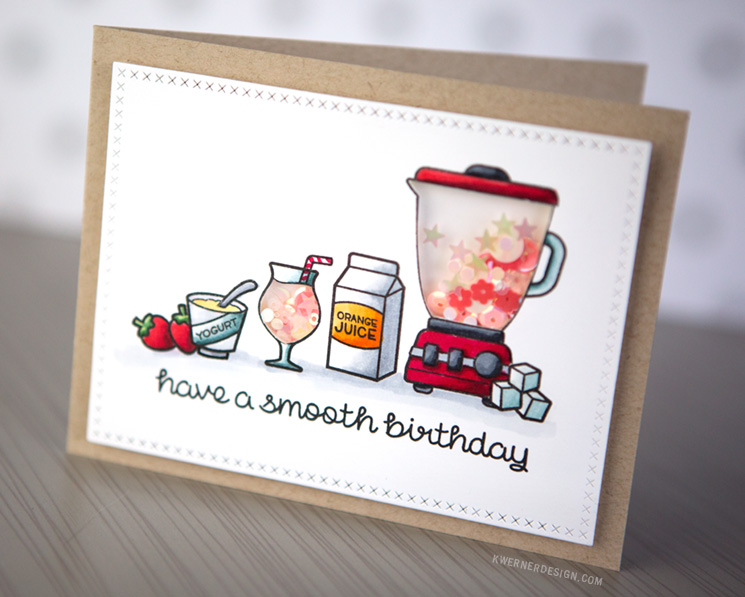 Really, any excuse to use more fun sequins from Lucy's Cards. Am I right? ;)
Enjoy!
Watch video below | Watch at YouTube
Supplies

I often get questions about where to purchase the supplies I use in videos. To make it easier for my blog friends, all supplies are listed below! :) The letters below each image are links to stores where you can buy the product. SSS = Simon Says Stamp, AZ = Amazon, etc. Affiliate links used when possible.
Items marked with an asterisk (*) were provided by the manufacturer. All other items were personally purchased.
CLICK A SHOP:

CLICK A SHOP:

CLICK A SHOP:

CLICK A SHOP:

CLICK A SHOP:

CLICK A SHOP:

CLICK A SHOP:

CLICK A SHOP:

CLICK A SHOP:

CLICK A SHOP:

CLICK A SHOP:

CLICK A SHOP:

CLICK A SHOP:

CLICK A SHOP:

CLICK A SHOP:

CLICK A SHOP:

CLICK A SHOP:

CLICK A SHOP:

CLICK A SHOP:

CLICK A SHOP:

CLICK A SHOP:

CLICK A SHOP: