Custom Return Address Stamps & "Handmade By" Stamps
*NOTE: Address shown is my business mailbox address. It is NOT my personal address. No need to be nervous that I'm showing this address online. :)
Like many cardmakers out there, I send a lot of cards in the mail. And I've been on the hunt for good custom stamp options for both "handmade by" stamps for the back of my cards, and return address stamps that look great. There have been custom stamp options out there for many years, but none were what I was looking for. That is, until recently. :)
Watch video below | Watch at YouTube
100% Custom Stamps
Years ago, I had some handmade stamps made at Simon's Stamps (not to be confused with Simon Says Stamp, which is the crafting store I refer to often here at my blog). They're a custom stamp store that can take your design and make it into a stamp in whatever size you need. They have self-inking stamps, wood-mounted stamps, etc. Everything is highly customizable.
I paid $12.99 + shipping for the stamp shown below. The money you save on the stamp is offset by the fact that you have to come up with the design yourself. You create the file and then upload it to their site. While ordering you see what the stamp should look like and can make adjustments before placing your order.
I receive my stamp very quickly. Within just a few days.
Self-Inking Custom Stamps
Paper Source has been selling custom stamps by Three Designing Women for many years. My collection of custom return address stamps has grown since I moved into my house over a year ago (I currently have three different stamps), and they have a TON of designs to choose from. Here are a few of my favorites.
They also have a few "handmade by" stamps.
There is no proofing process offered, so make sure you type in your info correctly and double-check before placing the order.
Prices range from $29.95 to $39.95, depending on if you get the stamp machine with it. If you already have a stamping machine, you can just get the stamping plate and change the plates when you need to (as shown in the video above). You can see the full selection at Paper Source HERE. Additional ink colors for the stamp machine are HERE.
Custom Calligraphy Stamps
I came across Antiquaria this summer and was intrigued. They have the most gorgeous custom wedding stamps! I ordered a couple stamps to try out and I adore them! A few weeks ago, I contacted them and they sent along some additional stamps with my business address on them to show you guys (since, ya know, I wasn't going to show my home address–LOL!).
What's awesome about Antiquaria is that you can have a custom calligraphy stamp made. The prices range from $35 to $65, depending on the design of the stamp. Some stamps are typeset or have minimal calligraphy ($35), others have more involved custom calligraphy and are larger ($65). The stamps are clear and come permanently mounted on an acrylic block.
After ordering, you will receive a PDF proof of your custom stamp. You can make slightly modifications if needed (check your address multiple times to make sure it's correct!). If any design changes are needed, revisions may be subject to an additional proof fee. One of my stamps needed a slight little change (one of the flourishes was too close to the address. I probably would have been okay without that change, but I'm a picky designer–LOL!). They were quick to make the change, though. And I appreciated the attention to detail. :)
Shown below and in the video above is the Calligraphy Ampersand Return Address Stamp (without the ampersand, obviously). The other stamp shown in the video is the Wildflowers stamp.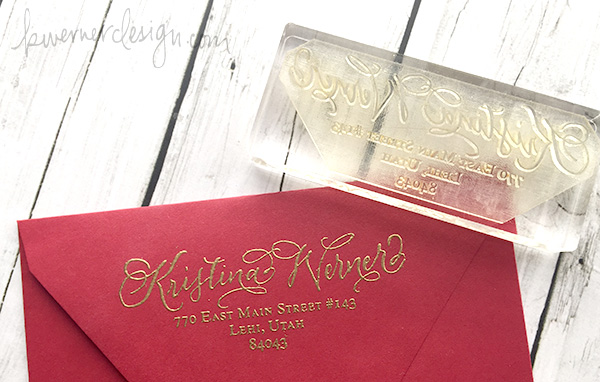 For the example above and in the video, I prepped the envelope with an EK Success Powder Tool, stamped in VersaMark Ink, applied Wow Rich Pale Gold embossing powder, and then melted the embossing powder with a Milwaukee Heat Tool. Envelope is from Paper Source.
The sweet, kind people are Antiquaria have a couple code for you! Use the code STAMPLOVE20 to get 20% off all stamps in their shop. I think custom address stamps are the perfect holiday gifts for cardmaking friends, or anyone in general. :) Thanks, Antiquaria! They also mentioned that they will be adding some more "Handmade By" stamps soon! :)
If you guys have any other great custom stamp sources, please leave them in the comments! :)