Custom Scene for Teacher Card (Zig Clean Color Markers)
Hi all! For today's card, I thought I would create a teacher card to send to a friend who is a teacher. The adorable Page Huggers stamp set from Mama Elephant was absolutely perfect and I couldn't resist using it for this card. Paired with the Words Defined stamp set, it created a fun teacher card. :)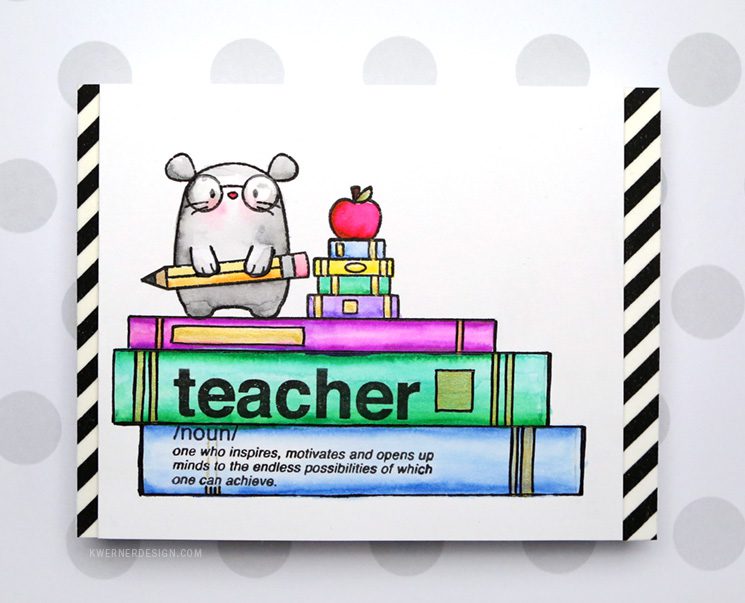 I created a scene by stamping the mouse and small stack of books near the top of the card, and then creating a larger stack of books for the mouse to stand on. I used a T-square ruler to draw the books.
I used Zig Clean Color Real Brush Markers for the painting. I love how bright and vibrant these colors are! And then finished off the books with a gold paint from the FineTec Gold palette.
Anyhow, I hope you enjoy today's video!
Watch video below | Watch at YouTube
Supplies
I often get questions about where to purchase the supplies I use in videos. To make it easier for my blog friends, all supplies are listed below! :) The letters below each image are links to stores where you can buy the product. SSS = Simon Says Stamp, AZ = Amazon, etc. Compensated affiliate links used when possible.
Items marked with an asterisk (*) were provided by a store or the manufacturer. All other items were personally purchased. Items below are shown in the order they appear in the video.
| | | | | |
| --- | --- | --- | --- | --- |
| CLICK A SHOP: | CLICK A SHOP: | CLICK A SHOP: | CLICK A SHOP: | CLICK A SHOP: |
| CLICK A SHOP: | CLICK A SHOP: | CLICK A SHOP: | CLICK A SHOP: | CLICK A SHOP: |
| CLICK A SHOP: | CLICK A SHOP: | CLICK A SHOP: | CLICK A SHOP: | CLICK A SHOP: |
| CLICK A SHOP: | CLICK A SHOP: | CLICK A SHOP: | CLICK A SHOP: | CLICK A SHOP: |
| CLICK A SHOP: | CLICK A SHOP: | CLICK A SHOP: | CLICK A SHOP: | CLICK A SHOP: |