DIY Envelope Made with a Coloring Book Page + GIVEAWAY!
Hi all! Today's post is part of a blog hop celebrating Kathy Racoosin's 30 Day Coloring Challenge! I also have a giveaway, so be sure to check out the hop info at the bottom of today's post.
A while back I shared a watercolor coloring book in a video (see it here). I thought it would be fun to break out the same book, Painterly Days: The Flower Watercoloring Book for Adults and to create an envelope with a finished page.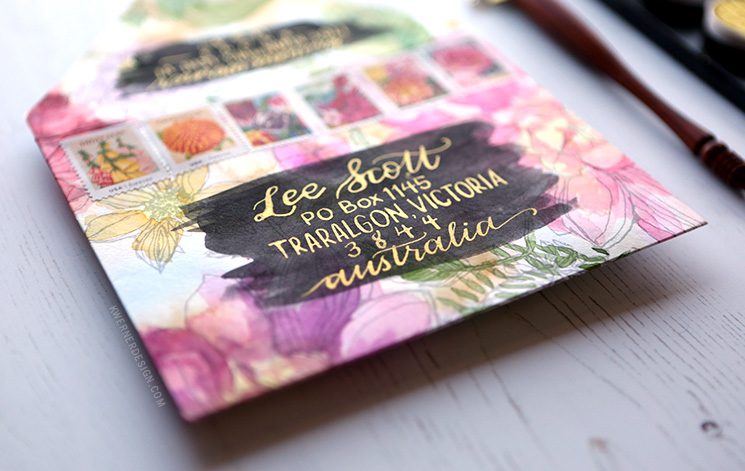 I used some Winsor & Newton watercolors for my painting. I put the tube watercolor paints into a Portable Painter palette. I think a Portable Painter would be great for coloring on the go! There's even a dual ended brush included in the palette. Be sure to check out the giveaway below for your chance to win a Portable Painter of your own.
After painting a page from the watercolor book, I cut it down and used the 123 Punch Board from We R Memory Keepers to make an envelope.
The coloring and flowers on the paper were too distracting to address the envelope as is, so I painted some darker spots with black watercolor. Then I used a Brause Rose nib and Finetec gold watercolors to address the envelope and add a return address.
I did end up ironing the envelope a but after it was finished. The paper was a tiny bit lumpy and warped, so I protected it with a sheet of white paper and then place a hot clothing iron on top to smooth the envelope out. Worked like a charm! It's now smooth and flat.
Watch video below | Watch at YouTube
Supplies
Compensated affiliate links used when possible. Items marked with an asterisk (*) were provided by a store or the manufacturer. All other items were personally purchased. Items below are shown in the order they appear in the video.
CLICK A SHOP:

CLICK A SHOP:

CLICK A SHOP:

CLICK A SHOP:

CLICK A SHOP:

CLICK A SHOP:

CLICK A SHOP:

CLICK A SHOP:

CLICK A SHOP:

CLICK A SHOP:

CLICK A SHOP:

CLICK A SHOP:

CLICK A SHOP:

CLICK A SHOP:

CLICK A SHOP:

CLICK A SHOP:
The Daily Marker 30 Day Coloring Challenge
So what's the challenge all about? Kathy is encouraging everyone to color a little bit each day, even if it's just for 5 minutes. And if you join in be sure to share your coloring on Instagram with the hashtag #thedailymarker30day. There are a TON of people joining in! You don't have to participate every day, just hop in when you can. :)
Giveaway!
I purchased three additional Portable Painter palettes a couple months ago with the intention of giving them away. For a chance to win your own Portable Painter, please leave a comment on this blog post (scroll to the very bottom of the page and you'll see the comment area) telling me about your love of coloring or coloring books. Comments will be open until 9am on Thursday, March 9, 2017.
Giveaway winners will be randomly selected and added to my Giveaway Winners page after March 9, 2017. Winners will be contacted by email so be sure to include an email address you check often. Winners will have 48 hours to claim their prize. Thanks!
Get Hopping!
Your next stop on The Daily Marker 30 Day Color Challenge hop is the Simon Says Stamp Blog!