Easy Shaker Card with Fuse Tool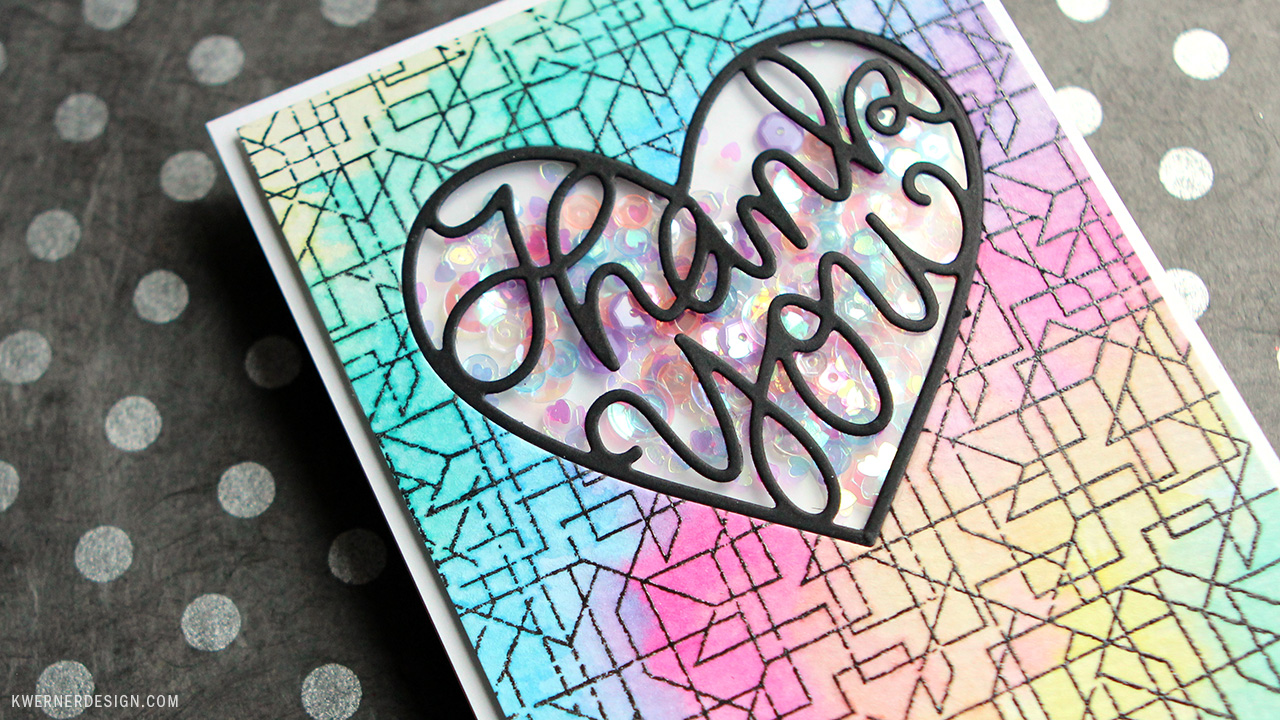 I think you all know by know that I am on the search for the easiest way to make a shaker card. If you've ever tried to make a shaker card, you're probably on the same search. Shaker cards are notorious for being difficult to make, especially the first few times you make them.
So when I was at CHA last January and saw the Fuse Tool from We R Memory Keepers being demonstrated, I knew I'd struck gold! Not sure why I waited so long to test it out myself, but here we are! Let's make a super easy shaker card using the Fuse Tool.
Basically, the Fuse Tool melts plastic pocket protectors. You'll see it more in the video below, but the tip of the tool heats up and as you run it along the plastic, it melts and fuses the two pieces of plastic together. Essentially creating a pocket.
I used 6×6 page protectors to create my pocket AKA shaker, but I've seen others use stamp storage pockets. I'm hoarding my stamp storage pockets (for more stamps, obviously–I must have ALL the stamp! Mwa ha ha!), so I definitely wasn't giving up any of those. Instead I bought the 6×6 page protectors that I'll solely use with the Fuse.
The shaker area of my card was make by die cutting the Thank You Heart dies from Simon Says Stamp. I've always thought this particular die set would be perfect for a shaker card. :)
The background was first stamped and embossed using the Lines background stamp from BasicGrey and Hero Arts. Then I used Distress Ink to watercolor over the top. Super simple watercoloring. I just prepped the watercolor paper with water before applying color.
I hope you enjoy today's card and video! :)
Watch video below | Watch at YouTube
Supplies
I often get questions about where to purchase the supplies I use in videos. To make it easier for my blog friends, all supplies are listed below! :) The letters below each image are links to stores where you can buy the product. SSS = Simon Says Stamp, AZ = Amazon, etc. Affiliate links used when possible.
Items marked with an asterisk (*) were provided by the manufacturer. All other items were personally purchased.
CLICK A SHOP:

CLICK A SHOP:

CLICK A SHOP:

CLICK A SHOP:

CLICK A SHOP:

CLICK A SHOP:

CLICK A SHOP:

CLICK A SHOP:

CLICK A SHOP:

CLICK A SHOP:

CLICK A SHOP:

CLICK A SHOP:

CLICK A SHOP:

CLICK A SHOP:

CLICK A SHOP:

CLICK A SHOP:

CLICK A SHOP:

CLICK A SHOP:

CLICK A SHOP:

CLICK A SHOP:

CLICK A SHOP:

CLICK A SHOP:

CLICK  SHOP:

CLICK A SHOP:

CLICK A SHOP:

CLICK A SHOP:

CLICK A SHOP:

CLICK A SHOP:

CLICK A SHOP:

CLICK A SHOP:

CLICK A SHOP: