Easy Watercolor Techniques #1: How to get Graded Washes (Ombré)
Happy Monday, all!
I asked you guys on Facebook recently what you'd like to see in videos and many of you requested more easy watercolor techniques. So this week I'll be exploring three of my favorite watercolor techniques. In today's video I'll be going over graded washes, or as I like to call them, ombré washes.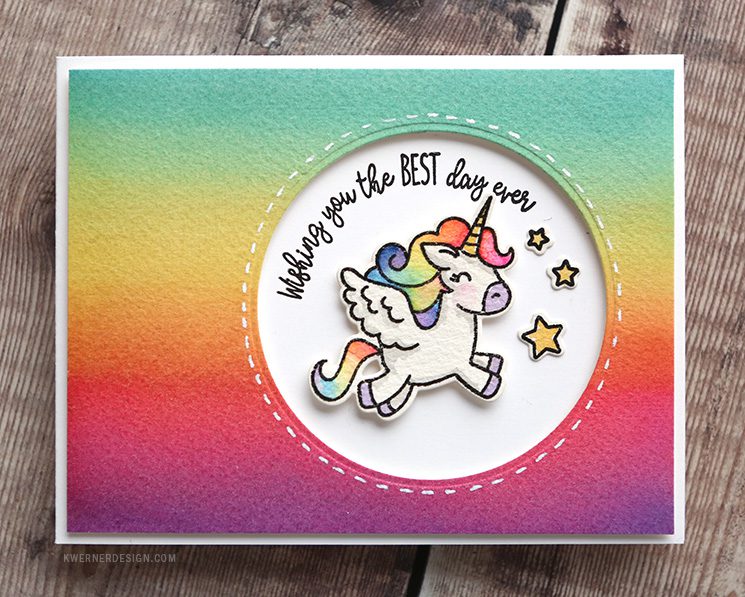 In the most general terms, a graded wash is a smooth transition of color. Whether it's from a strong intense color fading out to nothing (or to white), or when you have one color transitioning into another color. Most of the time multicolor graded washes have only two or three colors, but today I used five colors. The more colors you use, the more you risk creating a muddy mess of color. But I hope my walk-through (and the trick I used to save my painting from becoming mud) is helpful.
I would be remiss if I didn't mention watercolor paper. For the very best results (and to minimize frustration), please use a high quality watercolor paper when trying out a multicolor graded wash. If things go awry, a thicker paper will handle correcting things a bit better (as shown in the video). I used Arches cold press watercolor paper for my card today. And as more my watercolor paints, I used Mijello Mission Gold.
To finish off the card, I used images from Avery Elle's Pegasus Duo stamp set, as well as the coordinating dies.
I hope you enjoy today's video! I'll be back two more times to week to share more easy watercolor techniques. :)
Watch video below | Watch at YouTube
Supplies
I often get questions about where to purchase the supplies I use in videos. To make it easier for my blog friends, all supplies are listed below! :) The letters below each image are links to stores where you can buy the product. SSS = Simon Says Stamp, AZ = Amazon, etc. Compensated affiliate links used when possible.
Items marked with an asterisk (*) were provided by a store or the manufacturer. All other items were personally purchased. Items below are shown in the order they appear in the video.
CLICK A SHOP:

CLICK A SHOP:

CLICK A SHOP:

CLICK A SHOP:

CLICK A SHOP:

CLICK A SHOP:

CLICK A SHOP:

CLICK A SHOP:

CLICK A SHOP:

CLICK A SHOP:

CLICK A SHOP:

CLICK A SHOP:

CLICK A SHOP:

CLICK A SHOP:

CLICK A SHOP:

CLICK A SHOP:

CLICK A SHOP:

CLICK A SHOP:

CLICK A SHOP:

CLICK A SHOP:

CLICK A SHOP:

CLICK A SHOP:

CLICK A SHOP: