Father's Day Shaker Card – Fintastic Friends from Lawn Fawn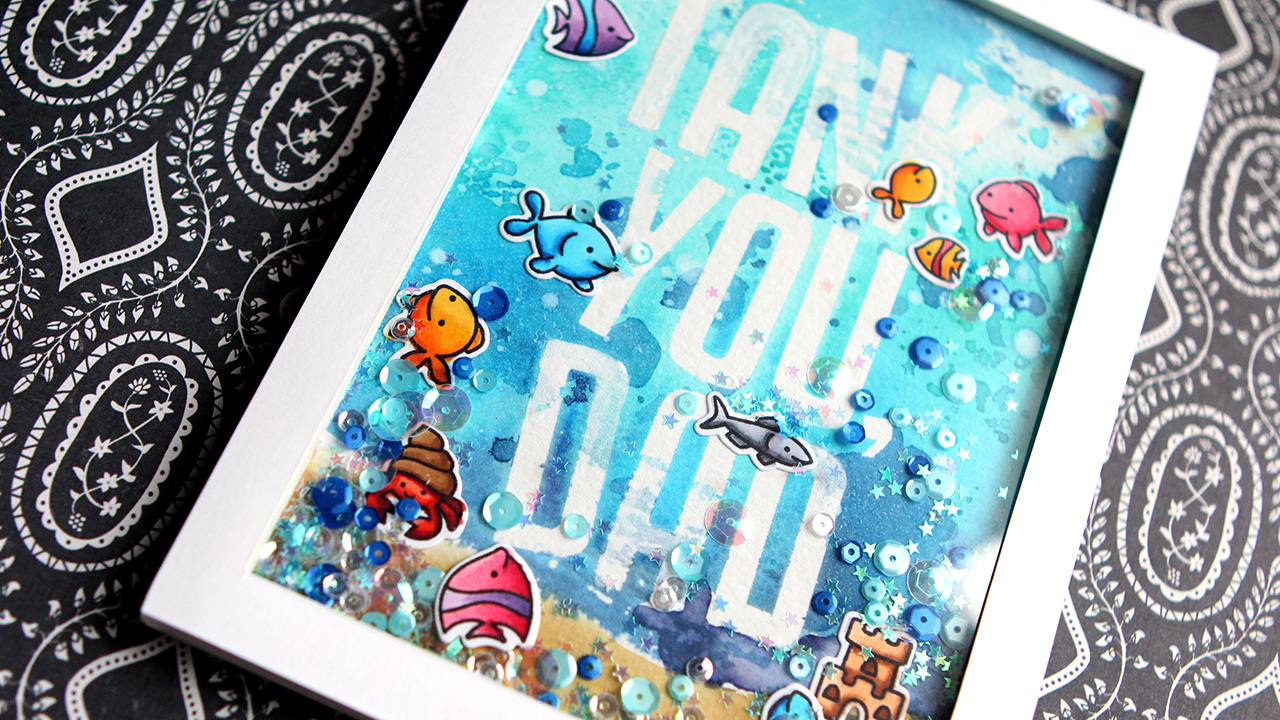 I think this might be the largest card I've ever made. This whopper is 5.5″ wide and 7.5″ tall! But I just couldn't bring myself to cut down or cover up any more of the cute water scene. And there's no need for an envelope since I'll be hand delivering this card on Father's Day. :)
My dad has always loved fish. Fish of all kinds. He doesn't do fishing, though. Instead, he has fish tanks. It's one of his hobbies that we've all enjoyed over the years. So when I saw the Finstastic Friends stamps set from Lawn Fawn that was just released, I knew it would be perfect for a Father's Day card…
A lot went into this card, and it took a relativity long time to create, so I'll let the video below speak for itself. But I did want to let you know that the fish were all colored with Copic markers, and the background was created with Tumbled Glass, Peacock Feathers, Salty Ocean, Chipped Sapphire, Antique Linen, and Brushed Corduroy Distress Inks. And the large letters were dies from My Favorite Things.
Please enjoy the video! I love how this shaker card turned out. :)
Watch video below | Watch at YouTube
Supplies
I often get questions about where to purchase the supplies I use in videos. To make it easier for my blog friends all supplies are listed below! :) The letters below each image are links to stores where you can buy the product. SSS = Simon Says Stamp, AZ = Amazon, etc. Affiliate links used when possible.
Items marked with an asterisk (*) were provided by the manufacturer. All other items were personally purchased.
CLICK A SHOP:

CLICK A SHOP:

CLICK A SHOP:

CLICK A SHOP:

CLICK A SHOP:

CLICK A SHOP:

CLICK A SHOP:

CLICK A SHOP:

CLICK A SHOP:

CLICK A SHOP:

CLICK A SHOP:

CLICK A SHOP:

CLICK A SHOP:

CLICK A SHOP:

CLICK A SHOP:

CLICK A SHOP:

CLICK A SHOP:

CLICK A SHOP:

CLICK A SHOP:

CLICK A SHOP:

CLICK A SHOP:

CLICK A SHOP:

CLICK A SHOP:

CLICK A SHOP:

CLICK A SHOP:

CLICK A SHOP:

CLICK A SHOP:

CLICK A SHOP:

CLICK A SHOP:

CLICK A SHOP:

CLICK A SHOP:

CLICK A SHOP:

CLICK A SHOP:

CLICK A SHOP:

CLICK A SHOP:

CLICK A SHOP:

CLICK A SHOP:

CLICK A SHOP:

CLICK A SHOP:

CLICK A SHOP:

CLICK A SHOP: