Finally Friday – Our Friendship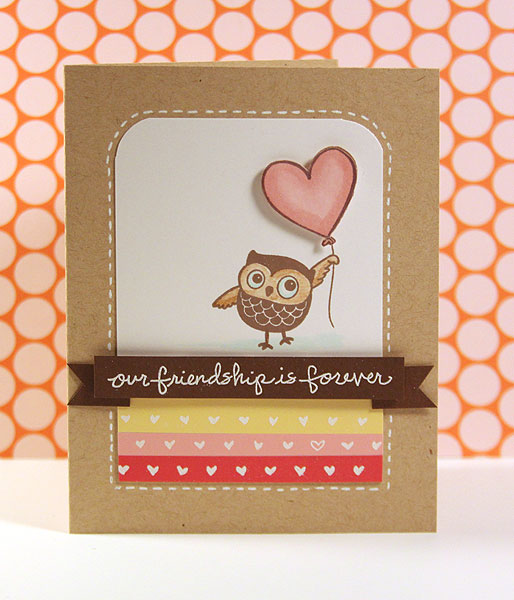 © Two Peas in a Bucket
Hi all! Wow, this card took a long time to make for such a simple card. I think it took over 30 minutes, which I think is pretty lengthy for how simple it is. Oh, but it's worth it! And it was fun to make. :)
Anyhow, I tried a bit of Copic marker, a lot of embossing, and a bit of popped-up sections of a stamped image on this card. And that last little bit is your challenge for this week…
CHALLENGE: Create dimension on a stamped image by stamping it again, cutting out portions of the image, and adhering it to the original image with dimensional adhesive. Select this week's Finally Friday challenge when you upload it to the TwoPeas gallery.
(click image to see it larger)
In other news, if you follow me on Twitter or Facebook, you know that I took Mannie to the vet for an emergency visit on Monday. He's just fine and doing okay now, but at the time he wasn't eating or drinking, throwing up a lot, and moping around the house. Definitely enough to be concerned.
I'd been watching him for a few weeks just trying to figure out why he was acting a bit different, but then with the throwing up (he had some major hairball issues) last weekend and coming home on Monday to see that he hadn't been eating or drinking… Needless to say I was on the phone with the 24/7 vet hospital right away. I took him in and found out he has a UTI. Usually the UTI symptoms have to advance to the urinating outside the litterbox stage for pet owners to see that something is wrong. However, since I had been watching Mannie so closely, I was able to figure out that something was wrong before it got to that stage. Chalk it up to instinct, I guess. :)
Anyhow, they gave him an antibiotic shot and I'm giving him another medication each day that is suppose to help but it makes him really sleepy and a bit loopy. He's just not back to himself quite yet. I've been in close contact with my vet and at one point skipped a dose of the medication to see if his sleepiness and odd behavior was related to the medication or not. The effects wore off and he was much more like himself, so I've resumed the medication knowing that it's just a temporary side effect of the UTI treatment.
Whew! That was a novel. Sorry about the length. Just wanted to fill you all in. :)
On to the card! Enjoy!
Supplies
Solid Card Stock: Kraft Notecard (Memory Box); Layering Papers in Daffodil, Punch, and Carnation (Hero Arts); Chocolate Chip (Stampin' Up!); Pure Luxury (Gina K)
Owl stamp: Owl and Heart Balloon stamp (Hampton Art)
Sentiment stamp: Hello Friend stamp set (Lawn Fawn)
Hearts stamp: Teeny Tiny Backdrops stamp set (Lawn Fawn)
Ink: VersaMark Ink and Memento Ink in Rich Cocoa (Tsukineko); Chestnut Roan (Colorbox)
Embossing Powder: White Zing (American Crafts)
Markers: Sketch RV11 & BG10 markers (Copic)
Corner Rounder: Corner Chomper (We R Memory Keepers)
White Pen: Signo Broad (Uni-ball)
Tools: Blender pen (Stampin' Up!); Stamp-a-ma-jig
Watch video below | Watch at YouTube