Friday Focus – Folded Card #1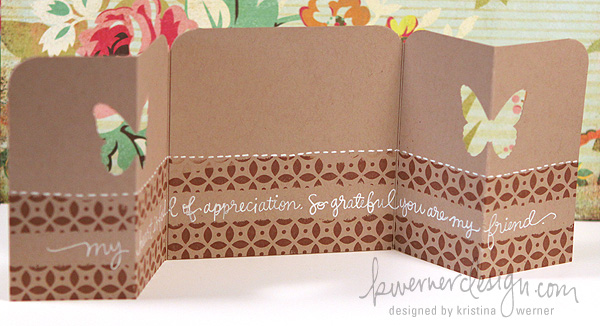 Morning, all!
Thanks again for all the wonderful suggestions! So many great ideas! And that's one of the reasons why I decided to do Friday Focus. Friday Focus is a video series where we'll take a look at different topics spanning over a few weeks of videos. The first focus is on folded cards.
This book is awesome!
I came across a book at Amazon the other day that completely intrigued me. It is Folding Ideas for Cards and Envelopes. It arrived yesterday and let me tell you, it's awesome! It doesn't spell out any card ideas for you–just the basic idea of the card. The folds and cuts. I totally love that because it leaves it completely up to interpretation. Also, there is a CD in the back of the book with PDF files on it for every single card idea in the book. Brilliant!
Punched Double Fold Card?
I chose the idea on page 173 as a jumping off point for my folded card. Not sure what to call it… Punched Double Fold Card? That works, I suppose. :)
I also found another use for that Martha punch I've been using lately. A lot of you expressed interest in seeing how one tool can be used across many different cards. I didn't do it intentionally, but I think I did that over the last few weeks (see here, here and here).
Anyhow, on to the card!
Supplies
Solid Card Stock: Crumb Cake (Stampin' Up!)
Stamp: Four Leaf Grid Background (Hero Arts)
Ink: Fluid Chalk Ink in Chesnut Roan (Colorbox)
Mask Paper: Stamping Mask Paper (Inkadinkado)
Punches: Classic Butterfly All Over Punch (Martha Stewart Crafts)
White Pen: Gelly Roll White (Sakura); Signo Broad (Uni-Ball)
Watch video below | Watch at YouTube