Hi all! Just a few little updates and tidbits that I wanted to share. :)
How's Mannie?
Mannie is doing great! Except for some allergies (sneezing, watery eyes) he's doing really well. He got an allergy shot at the vet's office last night that will hopefully help him feel better.
Sketches for Mannie
The funds from my Sketches for Mannie edition of Virtual Card Club paid for Mannie's emergency stay at the animal hospital, plus the additional urinary testing he needed done a couple weeks after treatment. I can't thank you all enough for helping out! You're the best. The remaining money from the sketches was given to my local humane society. I was going to give it to the animal hospital, but since I adopted Mannie from the local animal shelter, it seemed like an equally deserving place to donate. Thank you all for that, too! :)
I donated to the Utah Humane Society. You can also donate to the ASPCA online right here. :)
What's with all the rain?
It seems like it's been raining non-stop recently here. I think we've had maybe two sunny days in the last two weeks. But at least I can take interesting raindrop photos from the inside of my car with my iPhone, right? :)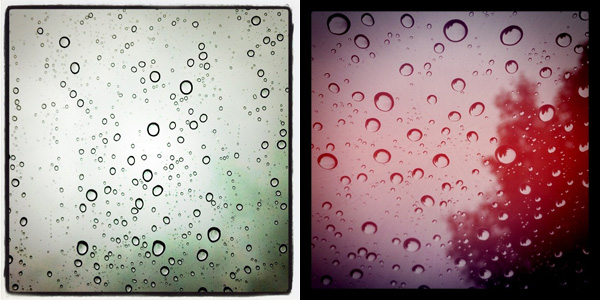 International Quilt Market Spring 2011
So, BasicGrey has had fabric lines out with Moda for a few years now. However, recently we stepped even more into the fabric world with embellishments, fabric flowers, and more. Here are some photos from the BasicGrey booth at the Spring Quilt Market…
(Yes, those are buttons!)
And we're also introducing fabric made from one of BasicGrey's most popular paper collections, Curio! The fabric in the glazed buttons photo above is from Curio, and then look at this amazing quilt that one of the Moda designers created below. I can't wait to get my hands on some Curio fabric!
I wasn't able to get pictures of all the fun fabric flowers in the BasicGrey booth, but you can see them here: BasicGrey Fabric Flowers.
While walking around the show floor, I also came across some amazing fabric lines. New Joel Dewberry (and we all know I love Joel Dewberry, right?):
And Sandi Henderson:
And these amazing fabric flowers from La Todera, the Dinner Plate Dahlia and Camelia Gigantu:
Want to make those flowers? I did a bit of research online and found that you can purchase the patterns make these amazing flowers directly from the La Todera website.
The Quilt Market was so inspiring! Even though I don't have any projects going at the moment (need to tackle the actual quilting part of the quilts I've shown you guys already), I have so many new ideas that I want to conquer! :)
Happy Wednesday!