Hot vs. Cold Pressed Watercolor Paper – Which is better for backgrounds?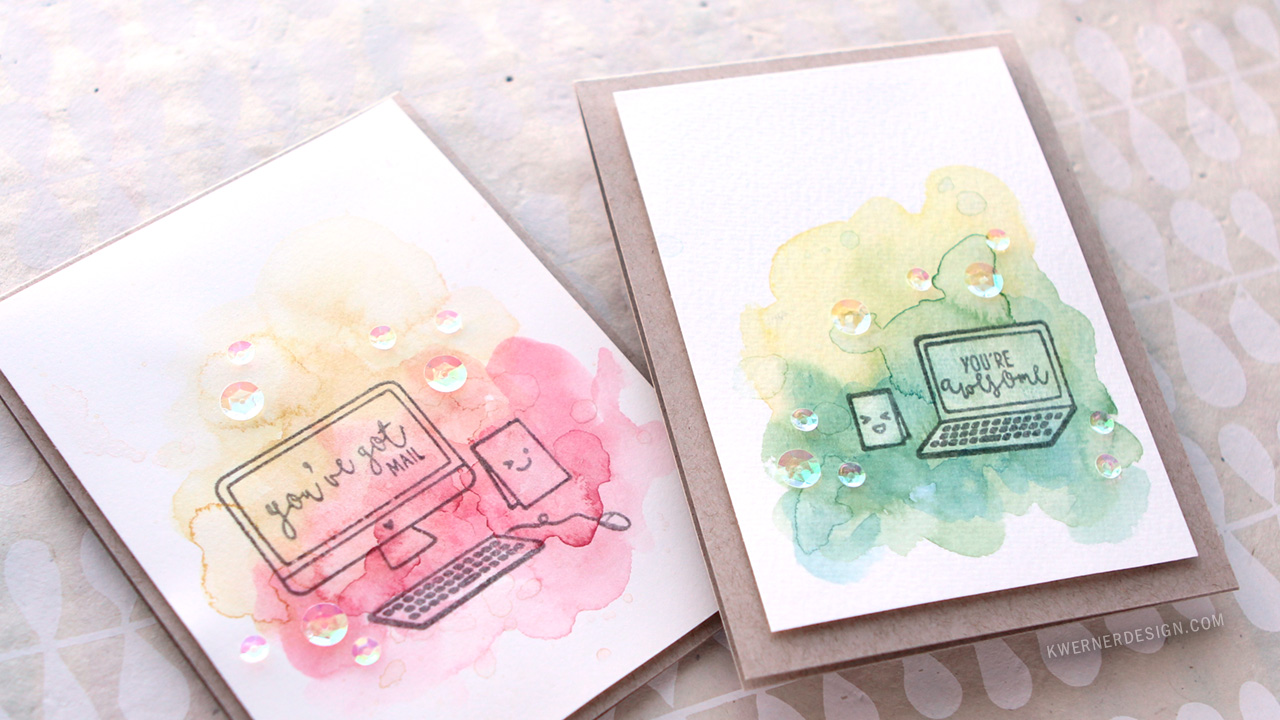 With all of the watercoloring that I've been doing recently, I've been wondering how hot pressed watercolor paper holds up under water-heavy backgrounds as compared to cold pressed paper. I decided to put it to the test today and create two cards using the Blogging Buddies stamp set from Mama Elephant.
For comparison, I used Arches Hot Pressed Watercolor Paper and Arches Cold Pressed Watercolor Paper.
(For reference, I used Winsor & Newton Professional Artist watercolors on both cards).
When it comes how much water each kind of paper can hold without breaking down, I found them very similar. I used quite a bit of water on both. However, I did see the harsh edges on the blooming areas more quickly on the hot pressed paper. That was the look I was hoping for, so I noticed that right away. I think the blooming happened rapidly because the paper overall dried more quickly.
I tried lifting color after each was dry, and I had a bit more success with the cold pressed paper, but the difference was so slight I didn't think much of it. I did feel like I could "scrub" or work on the cold pressed paper a bit more, though.
It was a fun experiment! I think I might use the hot pressed paper for additional things now. :)
Watch video below | Watch at YouTube
Supplies
I often get questions about where to purchase the supplies I use in videos. To make it easier for my blog friends, all supplies are listed below! :) The letters below each image are links to stores where you can buy the product. SSS = Simon Says Stamp, AZ = Amazon, etc. Affiliate links used when possible.
Items marked with an asterisk (*) were provided by the manufacturer. All other items were personally purchased.
CLICK A SHOP:

CLICK A SHOP:

CLICK A SHOP:

CLICK A SHOP:

CLICK A SHOP:

CLICK A SHOP:

CLICK A SHOP:

CLICK A SHOP:

CLICK A SHOP:

CLICK A SHOP:

CLICK A SHOP:

CLICK A SHOP:

CLICK A SHOP:

CLICK A SHOP:

CLICK A SHOP:

CLICK A SHOP:

CLICK A SHOP:

CLICK A SHOP:

CLICK A SHOP: