Karin Pigment DecoBrush Markers on a Holographic Envelope + First Impressions
Karin just release a brand new type of markers called Pigment DecoBrush. I was lucky enough to be sent a set before their release and let me tell you–they are so fun!
The only way I can think to describe them is that they are like an acrylic paint in a brush tip marker. A lettering and calligraphy artist's dream! Because they are pigment based, these markers can be used on slick non-porous surfaces. I immediately thought of some holographic envelopes that I've had in my stash for ages. Until now, I've only been able to use Sharpies on them!
There are only two things to remember to get the best experience out of Pigment DecoBrush markers:
Shake well before use (one good shake is good for up to an hour)
Store them tightly capped and in a horizontal position.
I used only colors found in the Passion Colors set for this envelope (plus the white from the Basic Colors set). I ADORE the Passion Colors set. I think this grouping of colors is favorite, with the Nature Colors coming in a close second.
The address used on this envelope is the business address for Karin. Also, when I mail holographic envelopes, I put them in a clear plastic sleeve and adhere the postage on the outside. I also include white labels with the address on them (see last image below). I find that sometimes the postal service machines have issues reading the holographic envelopes, so this helps.
Enjoy!
(Wondering what I used in this video? Everything is linked to multiple sources in the thumbnails at the end of this post, or in the text below. Compensated affiliate links used when possible).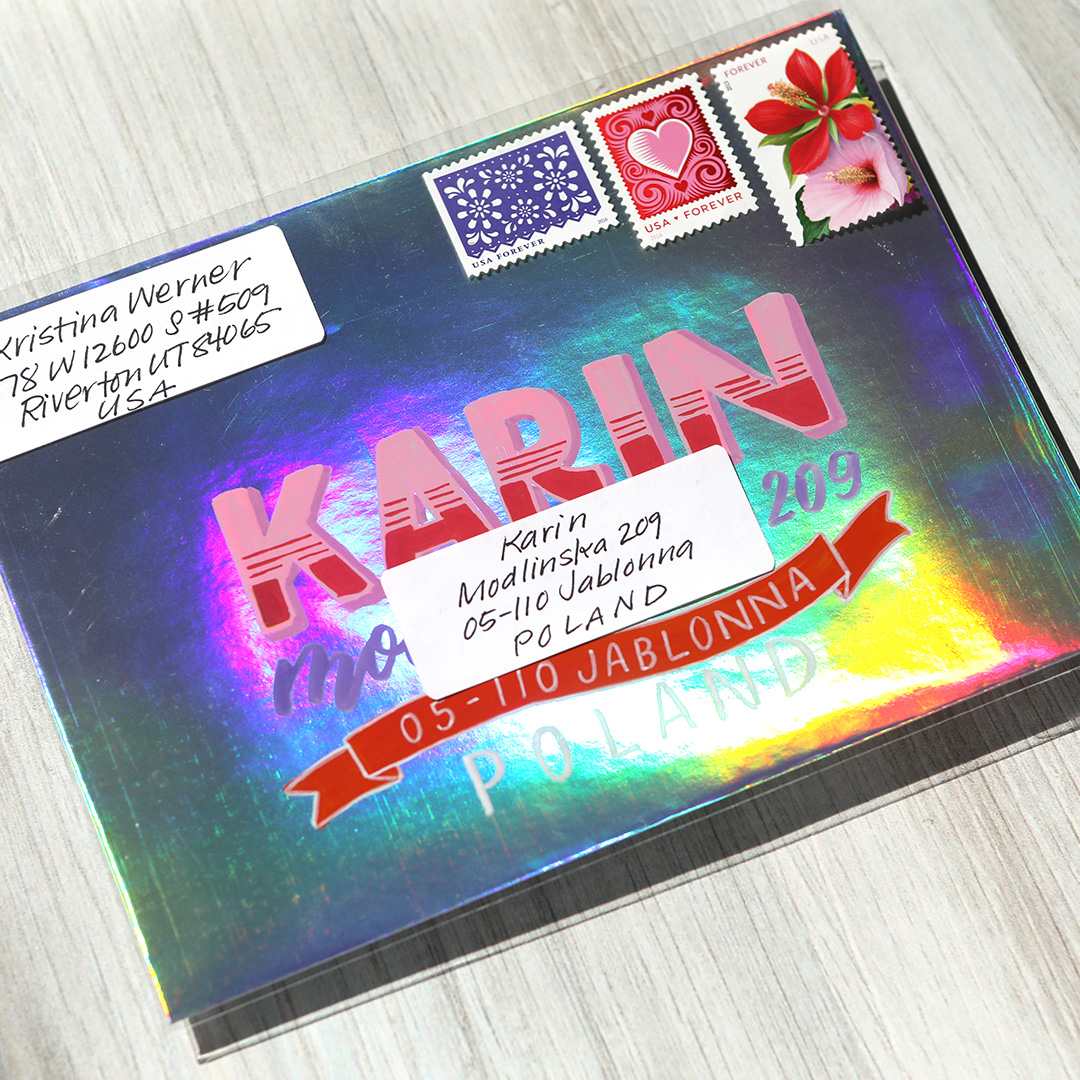 Supplies
Compensated affiliate links used when possible. Items marked with an asterisk (*) were provided by a store or the manufacturer. All other items were personally purchased. Items below are shown in the order they appear in the video.
*Karin Pigment DecoBrush Markers,…

*Karin Pigment DecoBrush Markers,…

Hobby Lobby A7 Holographic Envelopes

Vintage Postage Stamps

US Postage Stamps

A7 Clear Envelope Sleeves

Avery Address Labels (8160)