Kirarina Wink Markers & Decorating Envelopes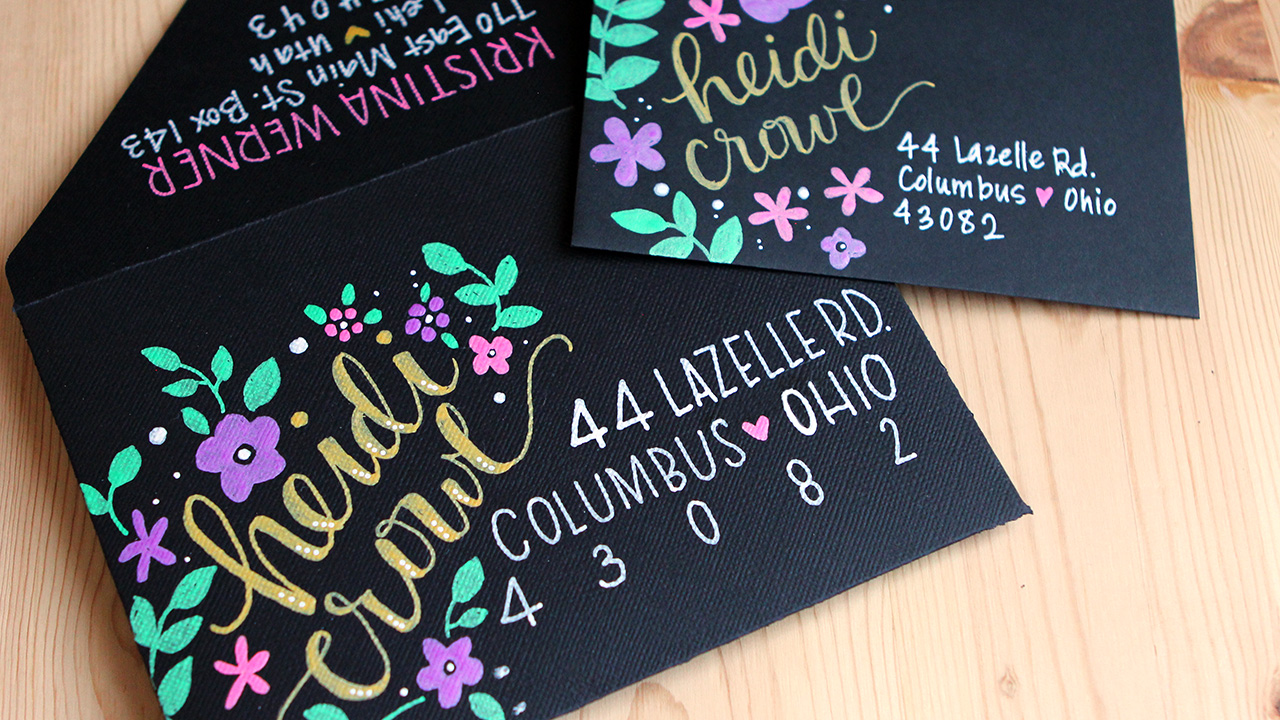 Good morning, all!
Have you all seen the new Kirarina Wink markers from Copic? I caught a glimpse of these at CHA last January and have been eager to get my hands on them!
Simon Says Stamp sent me some of the markers and challenged me to play with them and show what these markers can do. See all of the markers at Simon HERE. :)
There are 24 different colors, however at the time of this posting Simon was still waiting for a shipment of 7 colors. So even though my collection isn't complete yet, I still wanted to swatch all the colors on both black and white paper so I could see how they look…
There are lots of pinks, right? I don't really mind too much because I love pinks and as any pink-loving girl will tell you, there are differences between all the pinks.
"Her colors are pink and pink."
"My colors are Blush and Bashful, Mama."
Name that movie? ;)
Where these markers really shine is on darker papers. The ink is opaque and shimmery. It looks awesome on black!
NOTE: Addresses shown here are business addresses, including my PO box.
I created two black envelopes to show the markers in use. On the larger envelope, I freehand drew the flowers around Heidi's name. But on the smaller envelope, I used the Botanicals 3 stamp set from Paper Smooches. I stamped the flowers and leaves in black ink (so I could just barely see them) and then traced them with the Kirarina markers. Super easy and a great way to make it look like you drew the flowers from scratch. :)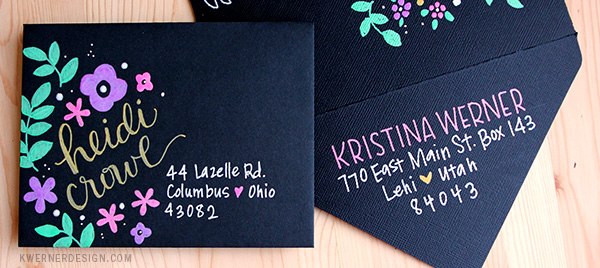 The Kirarina Wink markers are fun to use so I'll for sure be keeping them in my arsenal for envelope addressing and also for general card making use. The White Pearl Kirarina marker in particular would be really nice for adding white details to images. The tip of the marker isn't as fine as the Uni-ball Signo Broad or the Gelly Roll white pen that I use quite a bit, but the Kirarina has it's place, too.
Anyhow, here's a video walk through of the markers and envelopes… :)
Watch vide below | Watch at YouTube
Supplies
I often get questions about where to purchase the supplies I use in videos. To make it easier for my blog friends all supplies are listed below! :) The letters below each image are links to stores where you can buy the product. SSS = Simon Says Stamp, PS = Paper Smooches, AZ = Amazon, etc. Affiliate links used when possible.
Items marked with an asterisk (*) were provided by the manufacturer. All other items were personally purchased.
CLICK A SHOP:

CLICK A SHOP:

CLICK A SHOP:

CLICK A SHOP:

CLICK A SHOP:

CLICK A SHOP:

CLICK A SHOP:

CLICK A SHOP:

CLICK A SHOP:

CLICK A SHOP:

CLICK A SHOP:

CLICK A SHOP:

CLICK A SHOP:

CLICK A SHOP:

CLICK A SHOP:

CLICK A SHOP:

CLICK A SHOP:

CLICK A SHOP:

CLICK A SHOP:

CLICK A SHOP:

CLICK A SHOP:

CLICK A SHOP:

CLICK A SHOP:

CLICK A SHOP:

CLICK A SHOP: