MACM – Birdhouse (1-layer card)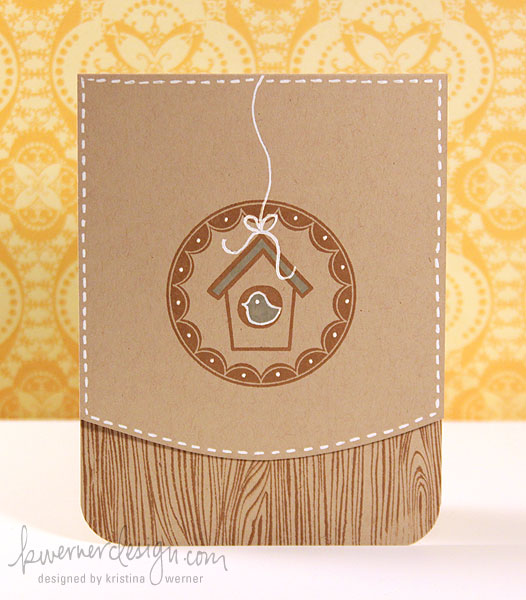 Morning, all!
For today's Make a Card Monday I wanted to create another 1-layer card. I've been making a lot of them recently, and after the paper-pieced masking card from a couple week's ago, I've been itching to make another one. :)
Anyhow, for this card, I decided to cut off the bottom of the front of the card and stamp inside of the card with Hero Art's Designer Woodgrain stamp. I mention it in the video, but I after I had already stamped it, I realized that it would have been the perfect time to mask out an area for a message to the card recipient. Oh, well!
As for the front of the card, I used a little birdhouse stamp from My Little Shoebox, and the Scallop Circle stamp from Hero Arts.
Summer Card Camp 2011
There's still time to register for Summer Card Camp 2011. Class starts one week from today, but registration is open a couple days into the start of class (for later-comers). More info here. :)
Enjoy the card!
Supplies
Solid Card Stock: Kraft (Stampin' Up!)
Woodgrain Stamp: Designer Woodgrain stamp (Hero Arts)
Circle Stamp: Scallop Circle stamp (Hero Arts)
Birdhouse Stamp: Home Tweet Home (My Little Shoebox)
Ink: Fluid Chalk Ink in Chestnut Roan (Colorbox)
Marker: BG72 Ice Ocean Sketch marker (Copic)
Corner Rounder: Corner Chomper (We R Memory Keepers)
White Pen: Signo Broad (Uni-ball)
Watch video below | Watch at YouTube