MACM – With Love & Sympathy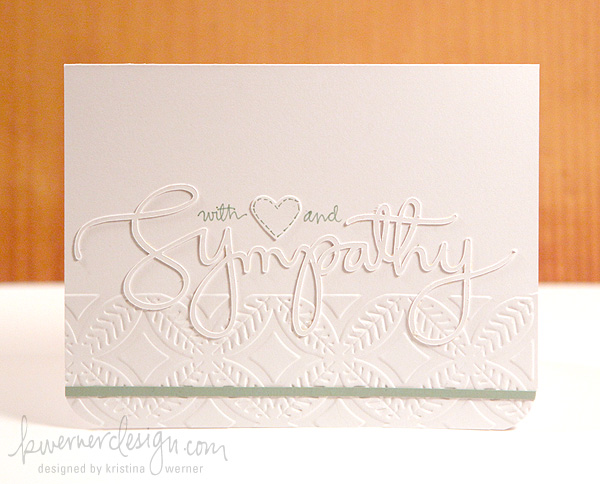 Morning, all!
Well, gosh, I'm falling apart! My back is killing me. Taking it easy as I head off to CHA on Saturday. I love CHA, but I don't love being on my feet all day, especially with a rebelling back. Haven't had any back issues for over a year, so this one took me by surprise. Anyhow, on to the card…
I wanted to create a sympathy card using mostly white. I did need to add a bit of color so that I could write a part of the sentiment, though. :)
I used Papertrey Ink's Stamper's Select White for the "sympathy." It's a super thick card stock and I wasn't sure how my Cameo would handle it, but it cut it like the champ that it is. No problem. :) For those wondering, I had it on the Heavy Card Stock setting.
If you want to buy the Sympathy Die-cut for use with your digital cutting machine you can below…
Sympathy Handwritten SVG/DXF Files – $0.99
Contains two files: SVG and DXF
If you're using Silhouette Studio: Open DXF file by going to File > Import to my library.
If you're using Silhouette Studio Designer Edition: Open SVG file by going to File > Open OR File > Import to my library.
TERMS OF USE: By downloading the above file, you agree to use the artwork for personal projects only. May not be used on any projects or cards that are sold. Commercial use is prohibited. All rights reserved. (c) 2012 Kristina Werner.
NOTE: Depending on how you pay through PayPal (credit card vs. e-check), you might be able to download the file immediately after submitting payment. If not presented with the opportunity to download immediately, a download link will be emailed to your PayPal email address. The system is automated, so requests for the download link to be sent to a different email address cannot be accommodated. Thanks!
On to the video!
Watch video below | Watch at YouTube
Supplies