NEW Planner stamps + Love Doki & Pony Brown Planners
Hi all! Kristina here. :)
Before we delve into the Holiday Card Series 2014 (the Day 1 video will be up later today), I am taking part in the Waffle Flower Planner Stay Focused Blog Hop!
Recently, Waffle Flower came out with some new stamp sets specifically for all of us planner addicts out there. :) As you may have noticed, there's quite a planner trend happening right now. Between the Erin Condren planners and FiloFax planners, a lot of people are discovering the joy of keeping a planner.
Admittedly, I am usually not one to stamp or decorate my planner pages, but I've been experimenting with some different planners as of late so I thought I'd try stamping a bit. Today I'll be showing you the five new stamp sets from Waffle Flower and also a peek into the planners (yes, planners plural) that I've been using. So first off, let's look at the Waffle Flower stamp sets…
The star of the release is the Stay Focused stamp set. That's the one I've been using, and mostly the blocks with headers stamps to mark timed appointments or events in my planner. (See the video below for more details).
NOTE: The new Waffle Flower stamp sets are also available at Simon Says Stamp, where you can buy other accessories like washi tape, ink for stamping, etc.
What I'm Currently Using
For about a year, I've been semi-content with my Erin Condren Life Planner. It's an excellent planner. However, I've also been looking into different planners to see if there is an even better planner for me out there. Every person approaches scheduling differently, so not every planner is a perfect fit.
I filmed a video showing what I'm using, but check out the pictures and links below as well.
Watch video below | Watch at YouTube
Currently, I am using a Love Doki planner (which I think is a non-leather replica of Kikki K planners. I've never seen a Kikki K planner in person, but only seen them online). I bought my A5 Love Doki planner from Pretty Yummy Cute. I've been really impressed with this planner, too. I was worried about the white getting dirty, but since I mostly only use this planner at my computer desk, there isn't much opportunity to get it dirty, anyway.
The tabbed dividers are Martha Stewart Avery dividers that I re-punched to fit the planner, just like I did with the zippered pouch. I added the month names using an Epson label maker and black on clear label tape.
Here's a glimpse at the what you see as you open the planner. I took the Perpetual Calendar book from my Erin Condren Life Planner and keep it in the front pocket with some Martha Stewart Tear Drop labels.
Inside the zipper pocket (which is a Martha Stewart Avery Zippered Pouch that I've re-punched to fit this planner) are full adhesive 2×2 Post-Its, kitty paw sticky notes, and kitty index stickers. Behind those, I have Rainbow Stickers.
I'm using DIY Fish inserts, which can be bought at Etsy and printed at home. After printing the inserts, I punched them using this hole punch that I found at Amazon.  I got the gold bow paper clip at Paper Source. (Please ignore the bad hole punching job I did on this particular example. I previously had these inserts in a regular 3-ring binder before re-punching them for this 6-ring A5 planner).
In addition to the Love Doki planner, which I mostly use to plan out my days specifically, I've been playing with a Pony Brown Don't You Worry About a Thing planner. I adore this little undated planner. I've been doing more fun doodling and sketching in this planner. I like to keep my A5 planner pretty simple (that Copic Marker sketch is the only cutesy decorating I've ever done in it), but this Pony Brown planner is so fun I can't resist making this one a bit more personalized. That's where the Waffle Flower stamps have been fun. I mark timed events with the stamps.
The planner comes in a plastic sleeve to protect it, which I love.
Aren't the illustrations so cute!?
I added cute kitty index stickers which are peeking out on the side, too. :)
The large cat sticky note is a Mini Kitty Box House Sticky Note.
Plus, now I'm finally whittling away at my washi tape stash. LOL!
So there we go! That's a glimpse into what I've been using as a planner for the last six weeks or so. :)
Blog Hop Giveaway!
Don't forget to leave a comment on this blog post for your chance to win some stamps! I'll be giving away one Waffle Flower stamp set from the release, plus one grand prize winner will be chosen from all the stops on the blog hop to win all five stamp sets! The winners will be announced Friday, October 10 on the Waffle Flower blog.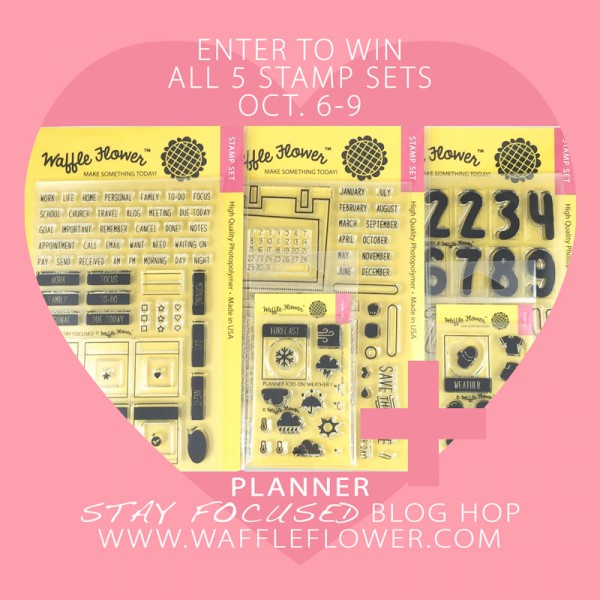 Get Hopping!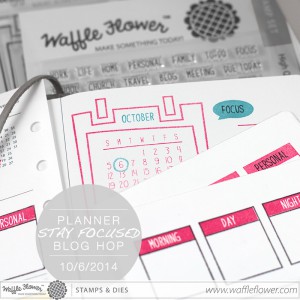 Here are all the stops on the hop:
Waffle Flower Blog
Jennifer McGuire
Joni Andaya
Patricia Roebuck
Katie Gehring
Candi Billman
Lorena Canto
Kristina Werner <—– YOU ARE HERE
Suzanne Dahlberg
Debby Hughes
Thanks for joining me today. :)