New Watercolor Pan Sets from Prima & Coloring Book Review
Happy Friday, everyone! Today I have an in-depth review of some of the new watercolor products from Prima. I got a glimpse of these at CHA a month ago and I was very curious about it. Thankfully, Prima sent me a box of goodies to try out and all three Watercolor Confections sets (The Classics, Tropicals, and Decadent Pies) and the Watercolor Coloring Book were included! Thanks, Prima!
NOTE: As usual, even though the products were sent to me for review, all opinions included here and in the vider are honest. It's always my policy to share my real opinions will you all. :)
(For my entire review, please watch the video at the bottom of this blog post).
Prima's Watercolor Confections sets each contain twelve different half-pan watercolors. There are three sets, so in all there are 36 different colors. The colors are numbered 1 through 36. There are rumors that Prima will offer these pan colors separately in the future. I haven't heard one way or the other, but I think "refills" or separate pans are a good idea.
I created swatch maps for each pan set. I did this because it's easier to see the dried colors this way, and also so I would have a number reference if Prima releases refill pans.
And here is an up close shot of all three sets. You can see the color differences here.
I also tried a bit of brush lettering with The Classics set. In this picture, you can see tin opened completely. Behind the swatch map, there are two large wells for mixing larger batches of color. The lower panel has four smaller wells.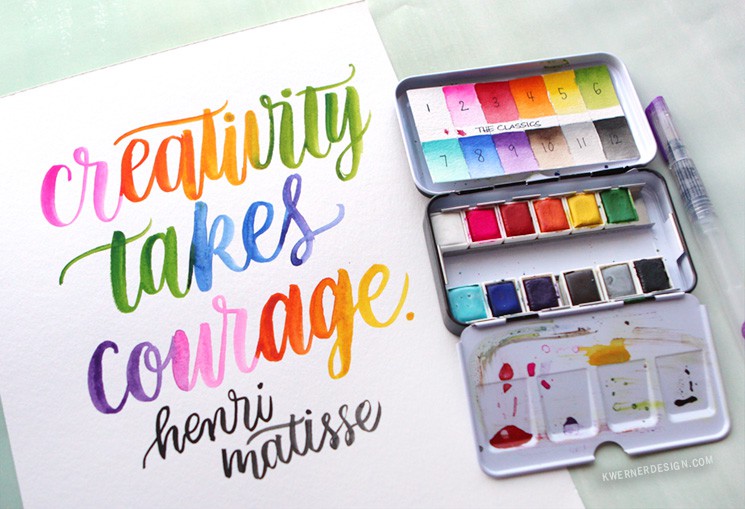 The Prima brush that I used the lettering above is from this set of two brushes that came out a while ago. I used the smaller one. :)
The Watercolor Coloring Book was fun to try out, too. The book measures 8×10 and the sheets are easily removed without damaging the sheets themselves. There are 24 designs total.
While I'm not the biggest fan of the Prima watercolor paper (watch the video for more information on this), the designs in the coloring book are nice. So despite the paper, I would still recommend the coloring book. The design outweigh the paper, in my opinion.
NOTE: I used a Silver Black Velvet size 4 round brush for painting the floral page shown here. I feel like I have more control over the paint and water when using a traditional brush vs. a water brush.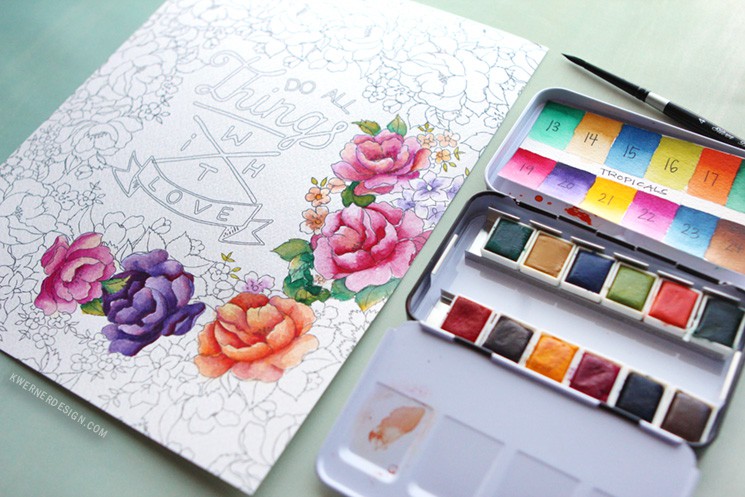 All of the products are available at retailers now:
| | | | | |
| --- | --- | --- | --- | --- |
| CLICK A SHOP: | CLICK A SHOP: | CLICK A SHOP: | CLICK A SHOP: | CLICK A SHOP: |
For my full review and opinions on the watercolors an the coloring books, please watch the video below. I go into much more detail there. :)