Prima Watercolor Pencils First Impressions & Tim Holtz Bird Crazy – Color Wednesday #64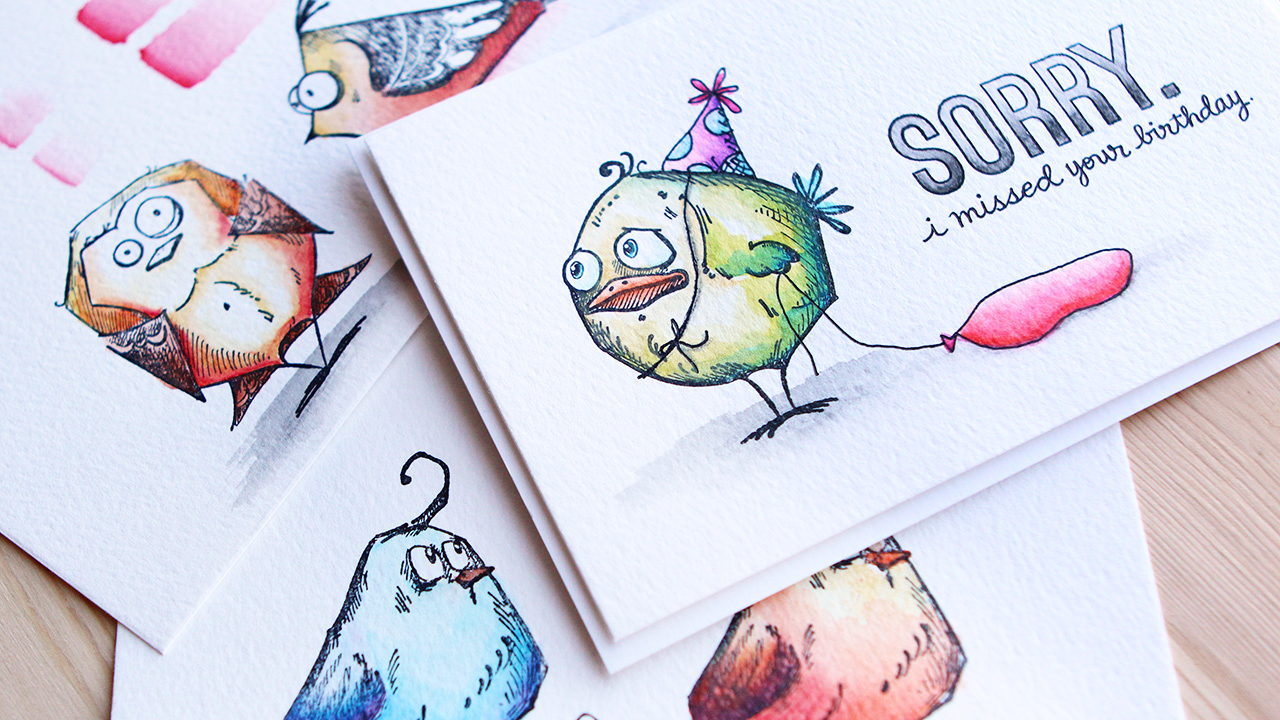 Hi all! :)
Prima recently released new watercolor pencils and I wanted to give them a try. So in today's post/video I have some experimentation, my first impressions of the watercolor pencils, and then a card.
Each set of Prima Watercolor Pencils contains twelve pencils. And there are six different sets of pencils. I can't wait to get my hands on the Hair & Skin Tones set since I love to color images of people.
EDITED TO ADD: I am adding this note 17 hours after I published the original post. In that time I have received the other 5 sets of watercolor pencils that I ordered and have taken inventory of the colors provided in each set. While each set has 12 pencils, some colors are repeated. If you buy all six sets of watercolor pencils, you will have 72 pencils. However, there are only 46 unique colors. In fact, there is one color that appears in four different sets (#120, which is a black).
While I am slightly disappointed that Prima repeated colors and the packaging does not list the color numbers, I do like the groupings of colors they have. They are good watercolor pencils considering their price. To help you in your buying decisions, if I were you I would consider what you will be coloring with the pencils. For example, if you like to color people, the Hair and Skin Tones would be a good choice. If you plan to color flowers, I would recommend Spring & Fall, and possibly Scenic Route if you like blues, teals, and aquas (that set has more than any other set).
I just felt the need to point this out after I received the other sets of pencils. Take it for what it's worth. I still plan to use the pencils because the colors are nice and I like them. I'm just not sure I need four black watercolor pencils.
Now, back to the original post…
I have The Basics set of watercolor pencils. To test out the watercolor pencils, I stamped images from Tim Holtz's Bird Crazy stamp set in StazOn Jet Black ink (since it's waterproof) on Strathmore Cold Press watercolor paper. Then I tested out a few different methods of painting with the watercolor pencils.
I tried using both a water brush and a traditional watercolor brush. While I did enjoy using the water brush, I found I had more control with the traditional watercolor brush.
After I painted a bunch of the bird stamps, I just had to make one into a card. And have you noticed that all of the birds look sad or concerned? What's up with that? LOL! I had to come up with a reason why the birds would be concerned so I made a belated birthday card.
I added a deflated balloon (poor birdie) and a party hat to the stamped bird image. I think it finishes the scene perfectly. And that deflated balloon? It makes me giggle! It's just so funny to me. :)
The word "Sorry" on the card was stamped using the Simple Letter Outlines stamps from Simon. I then wrote the remainder of the greeting with a waterproof black pen (it's the same pen I used for drawing the balloon and party hat).
This card is not the usual A2 card size. To make the scene fit the card a bit better, the final card size is 7″ x 4.5″.
Watch video below | Watch at YouTube
Supplies
I often get questions about where to purchase the supplies I use in videos. To make it easier for my blog friends all supplies are listed below! :) The letters below each image are links to stores where you can buy the product. SSS = Simon Says Stamp, AZ = Amazon, etc. Affiliate links used when possible.