Tips for Watercoloring with Zig Clean Color Real Brush Markers
Happy Friday! In today's video and post I have some tips for using Zig Clean Color Real Brush markers. I don't know why I don't use these markers more often! I love how nearly fluorescent the colors are are! For real, the pictures don't even do the colors justice!
I stamped and white heat embossed images from Tim Holtz's Flower Garden stamp set. Heat embossing images before watercoloring is one of my favorite techniques. The embossed edges of the stamp resist any watercolor so it makes it super easy to paint quickly.
The Zig marker colors I used for the coloring are: Light Carmine, Pink, Purple, Yellow, Red Wine, Mid Green, and Warm Gray. All are included in the 48 pack, which is the only pack I own.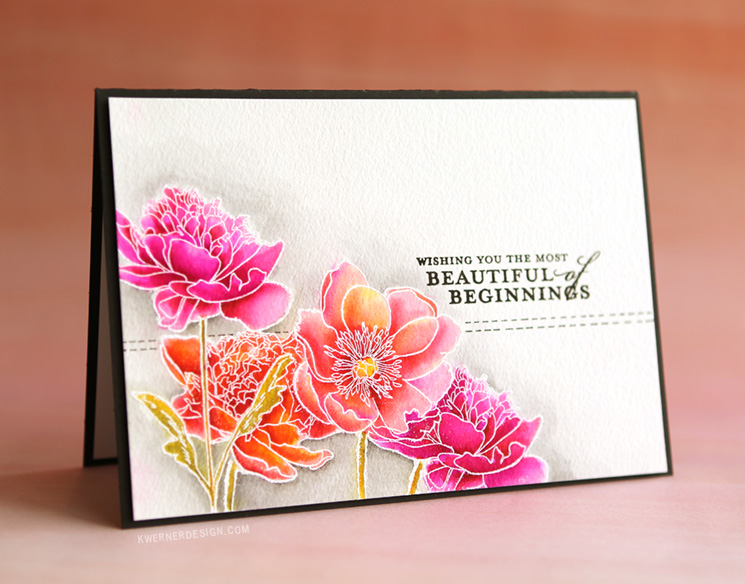 Sadly, the Beautiful Words stamp set I used for the greeting is discontinued (I didn't realize it when I made the card). To "ground" the greeting and make it look more purposeful, I draw some dashed lines with a T-square ruler.
I hope you enjoy today's video! For the tips on watercoloring with the markers, please view the video below…
Watch video below | Watch at YouTube
Supplies
I often get questions about where to purchase the supplies I use in videos. To make it easier for my blog friends, all supplies are listed below! :) The letters below each image are links to stores where you can buy the product. SSS = Simon Says Stamp, AZ = Amazon, etc. Compensated affiliate links used when possible.
Items marked with an asterisk (*) were provided by the manufacturer. All other items were personally purchased.
CLICK A SHOP:

CLICK A SHOP:

CLICK A SHOP:

CLICK A SHOP:

CLICK A SHOP:

CLICK A SHOP:

CLICK A SHOP:

CLICK A SHOP:

CLICK A SHOP:

CLICK A SHOP:

CLICK A SHOP:

CLICK A SHOP:

CLICK A SHOP:

CLICK A SHOP:

CLICK A SHOP:

CLICK A SHOP:

CLICK A SHOP:

CLICK A SHOP:

CLICK A SHOP:

CLICK A SHOP:

CLICK A SHOP:

CLICK A SHOP:

CLICK A SHOP:

CLICK A SHOP:

CLICK A SHOP:

CLICK A SHOP: