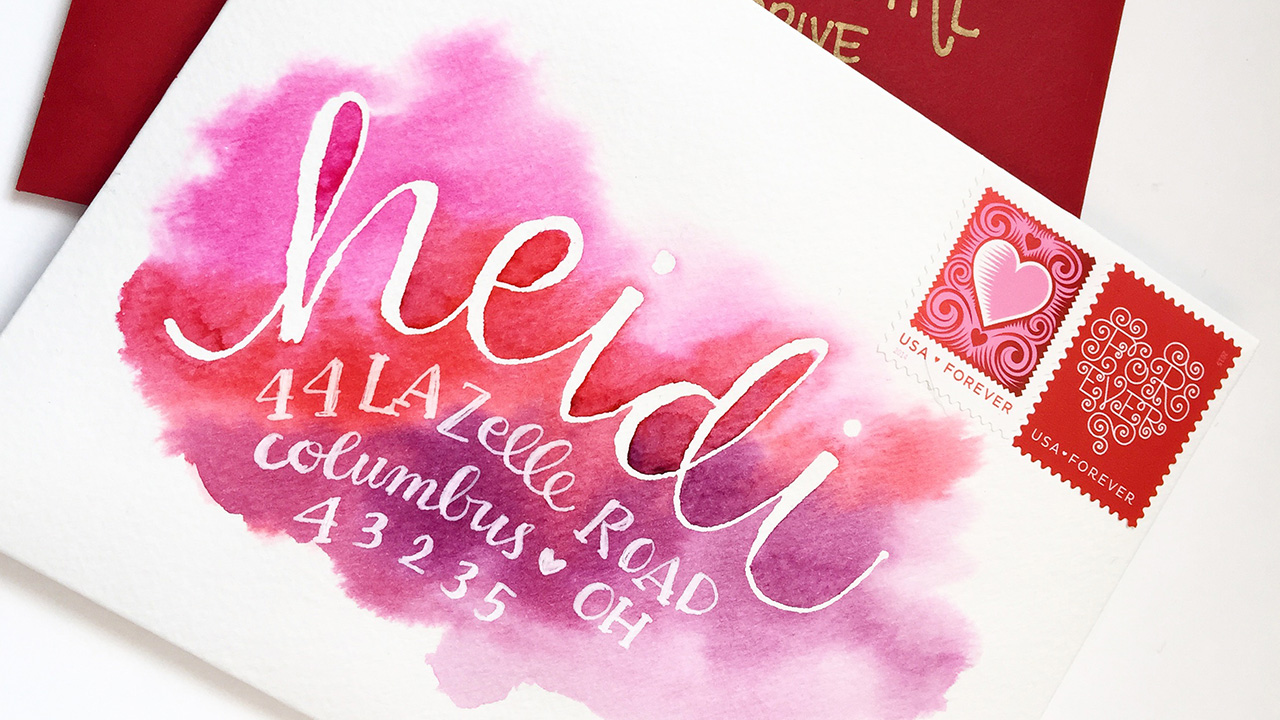 Happy Valentine's Day! I know I don't usually post on the weekend, but I really wanted to share these envelopes (and a video!) with you guys. :)
Earlier this week, I mailed out some "Galentine's" Day cards to some of my friends and posted a picture of the envelopes on Instagram and Facebook. I received multiple requests to show how I created the watercolor envelope in particular.
NOTE: The address shown on the envelope is a business address. No blasting out home addresses here. :)
Last night I created another envelope using the same techniques and filmed it. There was one small change though… While I didn't add any water droplets on Heidi's envelope, I couldn't resist adding some to Jennifer's envelope. :)
I used FineLine Masking Fluid to write Jennifer's name on the watercolor paper (I recommend Canson watercolor paper since it's a thinner watercolor paper but can handle lots of water), and then let it dry. After applying Distress Inks with a bit of water and letting it dry, I rubbed of the masking fluid. Jennifer's name in white was left behind. Such a cool look!
I used the following Distress Ink colors for the watercoloring: Tumbled Glass, Peacock Feathers, and Pine Needles. These are the same colors I blended onto dry cardstock in yesterday's cards video.
I haven't added Jennifer's address to the envelope yet. I'll eventually add it with a black pen in simple lettering. I find it best to keep the physical address simple when the name of the recipient is a bit more specialized.
I also really love matching postage stamps to the envelopes. Since this one was aqua, blues, and greens, I matched it with coordinating postage.
There are many online postage stamp stores online. I recommend and have personally purchased stamps from:
I also created a similar envelope earlier this week to send to my friend Jana. Since her address was already on the envelope, I've blurred it out so I can show you. On Jana's envelope, I used the following Distress Ink colors: Tumbled Glass, Peacock Feathers, and Faded Jeans.
A while back I posted a video about doing faux calligraphy on your envelopes. If you're looking for fun envelope ideas, you can check out that post, too.
In the video below I walk you through the entire process, including how to make an A2-sized envelope with the We R Memory Keepers Envelope Punch Board. I hope you enjoy! :)
Watch video below | Watch at YouTube
Supplies